Free transfers
From Prague's centre to our skydive area & back.
Operates daily
All-inclusive trips with departures every hour.
Top technology
Balance of safety & fun with certified skydivers.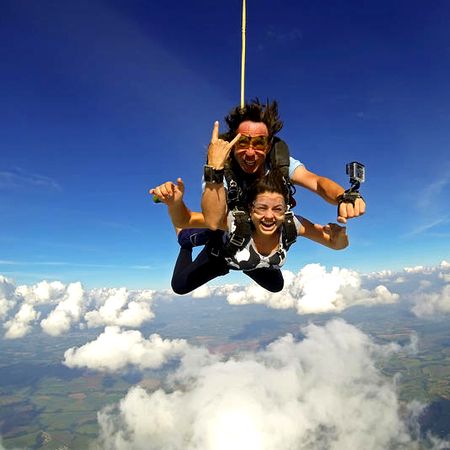 od 5 000 Kč / 200 €
Rezervace zabere pouze 2 minuty
Potvrzení během 15 minut
Zarezervujte, dokud je volná kapacita
Balíček obsahuje
Instruktor • English speaking professional skydiver
Cameraman • an optional choice of the jump recording
Školení • safety instructions and tandem jump simulation training
Vybavení • skydive suit, helmet, protective goggles
Flight • 20-minute sightseeing flight
Tandem jump • from 4,200 m (14,000 ft)
Free fall • 1-minute free falling at 200 km/h (125 mi/h)
Parachuting • 6-minute sky cruising with an open parachute
Diplom a triko • unique tandem jump T-shirt and diploma
Transfers • in an AC minibus from & to our office in Prague center
Absolutely phenomenal experience! Will go soon again

Staff was extremely helpful and kind, very professional yet fun. So glad we came here!

I can unreservedly recommend this provider.

Great service. Felt very safe thru the whole experience.

Much recommended for all those adventure loving people who love to see the world from sky and fly like a bird.

Tandemový seskok byl neskutečný a můj instruktor George byl prostě nejlepší

😘

(zobrazit originální text)

(zobrazit přeložený text)

This place has been an incredible experience! Can only recommend!

💪🏻💪🏻

Great experience, very professional, amazing service.

Great service, amazing experience, tandem skydiving was a blast.

Excellent! Top instructor, explained everything in detail and was very attentive. Gladly again.
3 Tandem jumps packages
Book with a €40 per person deposit (upon confirmation) and pay the rest on the airport. Free cancellation up to 24 hodin before the event.
Cena za osobu
5 000 Kč / 200 €
Cena za osobu
7 500 Kč / 300 €
Cena za osobu
8 000 Kč / 320 €
A professional skydiving cameraman can make a record of your jump in HD quality.
Kdy a kde
dub–říj: vyzvednutí možné denně od 8:00 do 16:00
Most Airport, 75 minut od centra Prahy
5 hodin celkem (včetně dopravy)
The experience is so amazing. I loved every bit of it.

The best two hours in Prague!

Attentive service. Wonderful atmosphere.

Skydiving was an amazing experience with your company. A superbly very well organized. Fully safe and secure.

Well for me it was a dream coming true. I decided to go for Skydiving (Tandem Jump). It was a great experience. Totally mean it!!!

It was awesome. Me and both my boys had a great experience.

So much fun in a safe environment with friendly staff. Can't recommend this tour enough!

Úžasný seskok padákem. Přátelský personál a instruktoři. Vřele doporučuji

(zobrazit originální text)

(zobrazit přeložený text)

Great service from A to Z! Easy to book and the staff is friendly and very professional.

Exceptional experience. I would love to go back next time in Prague.
Description
Enjoy the thrill of a lifetime with our amazing Prague skydiving experience from 4,200 m (14,000 ft) above the ground!
You're in the best hands with Prague's No 1 Skydive Company and the largest parachute and skydiving center in the Czech Republic. Our team of professional tandem instructors is looking forward to taking you up to the blue skies!
Vyzvednutí v Praze
Sraz je v naší kanceláři v centru Prahy, v Dlouhé ul. 6. (Skupiny 4 a více osob mají zdarma vyzvednutí na libovolné adrese v Praze.)
Cesta na letiště

1 hodina and 15 minut

Pohodlně se usaďte a relaxujte v klimatizovaném minibusu na cestě do místa seskoku v Mostě.
Bezpečnostní školení

10 minut

Seznamte se se svým instruktorem, který vám vysvětlí, co bude následovat a rád zodpoví vaše případné dotazy.
Výstroj

10 minut

Oblečte si kombinézu, postroje a brýle.
Seznamte se s kameramanem
Pokud jste si vybrali balíček s fotkami a videem, zaznamená váš kameraman celý zážitek od tohoto okamžiku až do přistání.
Nástup do letadla

20 minut

Připoutejte se a užijte si úchvatný výhled.
Výskok z letadla
Nadechněte se a vrhněte se vstříc úžasnému dobrodružství.
Volný pád

1 minuta

Užijte si nezapomenutelnou adrenalinovou jízdu rychlostí 200 km/h.
Plachtění

6 minut

Nechte se unášet vzduchem a vychutnejte si senzační pocit volnosti a nezávislosti během letu.
Hladké přistání
Instruktor s vámi bezpečně přistane na matičce Zemi.
Ocenění
Blahopřejeme, skvěle jste to zvládli! Jako vzpomínku si odnesete diplom a speciální tričko pro absolventy seskoku.
Návrat

1 hodina and 15 minut

Odvezeme vás zpět do Dlouhé ul. 6. (Skupiny 4 a více osob mají zdarma vysazení na libovolné adrese v Praze.)
Na shledanou příště
Budeme se těšit co nejdříve opět na viděnou.
Poznámky
The weight limit for the tandem jump is 40–130kg (88–290lb). Due to the need for special gear, there is a charge for the weight over 96 kg. It is €12 / CZK 300 for the weight from 96 to 105 kg, €20 / CZK 500 for the weight from 106 to 110 kg and €40 / CZK 1000 for the weight from 111 to 130 kg)
141 zákaznických recenzí


Achievement unlocked! Done skydiving for the first time and it was a super awesome, can't wait to go back and do it again next year! Absolutely amazing experience, everyone was so helpful from beginning to end. Booked for this autumn online several months ahead of time. The process was easy, clear and very fast. The communication with Martina was excellent. The free pick-up was on time and very convenient. They came to our hotel and dropped us off where we asked after. The guys at Prague Skydiving Centre are great, while staying safe and professional, they are clearly enjoying themselves.


Absolutely the best way to celebrate the wedding anniversary with mind blowing experience

🪂💍

💞

%100 enjoyed it.


What an adrenaline-rushing experience we all had. The staff in Prague Skydive Centre is amazing and very supportive. They helped so much in the smooth organising of skydive for our family. We had simply the best instructors we could've asked for, they made us feel welcome and above all absolutely safe and well looked after. We also got lots of awesome snaps and a recording of our tandem jumps. Couldn't recommend this skydive adventure highly enough.


My second tandem jump with them and again everything was absolutely top!


We booked the tandem skydiving for 5 people and we really loved the way they organized everything. Everything was buttery smooth and amazing from start to end. Highly recommended for skydiving.


Stojí to za ty peníze. Doporučuji vyzkoušet.

(zobrazit originální text)

(zobrazit přeložený text)


Skvělé služby, úžasný zážitek, tandemový seskok byl bomba.

(zobrazit originální text)

(zobrazit přeložený text)


Velmi dobrá komunikace než jsem dorazil. Flexibilní. Vřele doporučuji.

(zobrazit originální text)

(zobrazit přeložený text)


Dnes jsem si vyzkoušel tandemový seskok. Pohled shora byl úžasný. Kluci tam byli přátelští a byli plni energie. Stálo za to za každý cent.

(zobrazit originální text)

(zobrazit přeložený text)


Naprosto super tandemový seskok.

(zobrazit originální text)

(zobrazit přeložený text)
Více o Prague Tandem Skydiving
Prague is famous for its safe tandem skydiving. Very popular for travelers through Europe is to stop in Prague to skydive.