Free transfers
From Prague's centre to our skydive area & back.
Operates daily
All-inclusive trips with departures every hour.
Top technology
Balance of safety & fun with certified skydivers.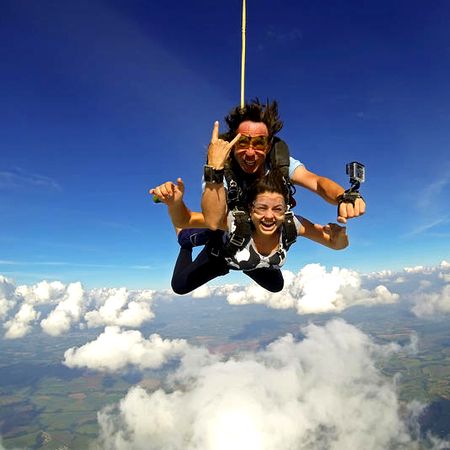 from CZK 5,000 / €210
It only takes 2 minutes to book
Confirmation within 15 minutes
Book now to secure your spot
What is included
Instructor • English speaking professional skydiver
Cameraman • an optional choice of the jump recording
Briefing • safety instructions and tandem jump simulation training
Equipment • skydive suit, protective goggles
Flight • 20-minute sightseeing flight
Tandem jump • from 4,200 m (14,000 ft)
Free fall • 1-minute free falling at 200 km/h (125 mi/h)
Parachuting • 6-minute sky cruising with an open parachute
Presents • unique tandem jump T-shirt and diploma
Transfers • in an AC minibus from & to our office in Prague center
Awesome skydiving experience. Friendly staff and trainers. Highly recommended!

Attentive service. Wonderful atmosphere.

Super professional, good ambience and very good feeling! It was really a cool thing!

Excellent! Top instructor, explained everything in detail and was very attentive. Gladly again.

It was awesome. Me and both my boys had a great experience.

This place has been an incredible experience! Can only recommend!

💪🏻💪🏻

Great experience, very professional, amazing service.

Absolutely phenomenal experience! Will go soon again

The experience is so amazing. I loved every bit of it.

Skydiving was an amazing experience with your company. A superbly very well organized. Fully safe and secure.
3 Tandem jumps packages
Book with a €40 per person deposit (upon confirmation) and pay the rest on the airport. Free cancellation up to 24 hours before the event.
Price per person
CZK 5,000 / €210
Price per person
CZK 7,500 / €313
Price per person
CZK 8,000 / €335
A professional skydiving cameraman can make a record of your jump in HD quality.
When & where
Apr–Oct: pick-up available daily from 8 AM to 4 PM
Most Airport, 75-minute ride from the centre of Prague
5 hours total (from pick-up to drop-off)
Exceptional experience. I would love to go back next time in Prague.

The skydiving was insane and my instructor George was simply the best

😘

Great service, amazing experience, tandem skydiving was a blast.

Staff was extremely helpful and kind, very professional yet fun. So glad we came here!

The best two hours in Prague!

Much recommended for all those adventure loving people who love to see the world from sky and fly like a bird.

So much fun in a safe environment with friendly staff. Can't recommend this tour enough!

Well for me it was a dream coming true. I decided to go for Skydiving (Tandem Jump). It was a great experience. Totally mean it!!!

Great service. Felt very safe thru the whole experience.

I can unreservedly recommend this provider.
Description
Enjoy the thrill of a lifetime with our amazing Prague skydiving experience from 4,200 m (14,000 ft) above the ground!
You're in the best hands with Prague's No 1 Skydive Company and the largest parachute and skydiving center in the Czech Republic. Our team of professional tandem instructors is looking forward to taking you up to the blue skies!
Pick-up in Prague
The meeting point is in our office in Dlouha 6, Prague 1, city center.
Ride to the airport

1 hour and 15 minutes

Sit back and relax in an air-conditioned minibus on the way to our skydiving dropzone near Prague.
Meet your instructor

10 minutes

Your tandem jump instructor will give you a safety briefing and explain everything that will happen next, and answer any questions you may have.
Get geared up

10 minutes

Take on your skydive jumpsuit, harness, hat, and goggles.
Meet your cameraman
By choosing a package with photos & video, your cameraman will record from this moment your whole skydiving adventure till the landing.
Board the plane

20 minutes

Get onboard a perfect plane together with your instructor and cameraman and enjoy the stunning view.
Jump off the plane
Once the door opens in the height of 14,000 ft, you'll be stepping off into an epic freefall experience!
Freefall

1 minute

The moment you jump out, you will see the world in a whole new way, with the wind blasting your face at the speed of 200 km/h.
Cruising the sky

6 minutes

At this point, you'll either be stunned to silence or screaming for joy! It's an incredible feeling that you will never forget!
Landing
Your instructor will arrange for you a very soft landing at the end.
Celebration
Congratulations, you've done it! You'll get the diploma and a skydiving T-shirt as a memory.
Ride back

1 hour and 15 minutes

We will take you back to our office in Dlouha 6, Prague 1.
Drop-off in Prague
Enjoy the rest of your day in Prague!
Notes
The weight limit for the tandem jump is 40–130kg (88–290lb). Due to the need for special gear, there is a charge for the weight over 96 kg. It is €12 / CZK 300 for the weight from 96 to 105 kg, €20 / CZK 500 for the weight from 106 to 110 kg and €40 / CZK 1000 for the weight from 111 to 130 kg)
141 customer reviews


Achievement unlocked! Done skydiving for the first time and it was a super awesome, can't wait to go back and do it again next year! Absolutely amazing experience, everyone was so helpful from beginning to end. Booked for this autumn online several months ahead of time. The process was easy, clear and very fast. The communication with Martina was excellent. The free pick-up was on time and very convenient. They came to our hotel and dropped us off where we asked after. The guys at Prague Skydiving Centre are great, while staying safe and professional, they are clearly enjoying themselves.


Absolutely the best way to celebrate the wedding anniversary with mind blowing experience

🪂💍

💞

%100 enjoyed it.


What an adrenaline-rushing experience we all had. The staff in Prague Skydive Centre is amazing and very supportive. They helped so much in the smooth organising of skydive for our family. We had simply the best instructors we could've asked for, they made us feel welcome and above all absolutely safe and well looked after. We also got lots of awesome snaps and a recording of our tandem jumps. Couldn't recommend this skydive adventure highly enough.


My second tandem jump with them and again everything was absolutely top!


We booked the tandem skydiving for 5 people and we really loved the way they organized everything. Everything was buttery smooth and amazing from start to end. Highly recommended for skydiving.


Value for money. Check it out if you have time on your hand in Prague


Great service, amazing experience, tandem skydiving was a blast


Very good communication before I arrived. Flexible. Good recommendations.


I have tried sky diving today. The view from top was amazing. The guys there were friendly and were full of energy. Every penny was worth it.


More about Prague Tandem Skydiving
Prague is famous for its safe tandem skydiving. Very popular for travelers through Europe is to stop in Prague to skydive.