Free transfers
From Prague's centre to our skydive area & back.
Operates daily
All inclusive trips with departures every hour.
Top technology
Balance of safety & fun with certified skydivers.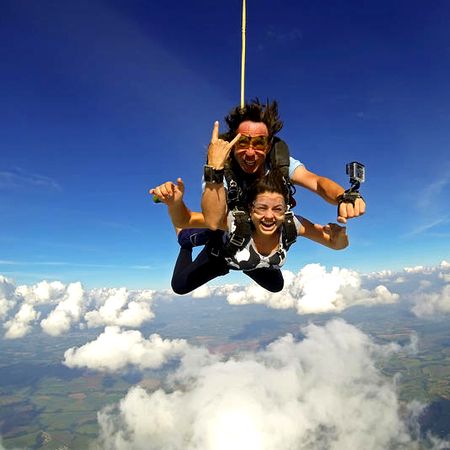 from €165
It only takes 2 minutes to book
Confirmation within 15 minutes
Book now to secure your spot
What is included
Instructor • English speaking tandem instructor
Briefing • safety briefing and training with simulation of the jump
Equipment • skydiving suit, helmet, protective goggles
Flight • 15-minute sightseeing flight
Tandem jump • from 4,200 m (14,000 ft)
Free fall • 1-minute free falling at 200 km/h (125 mi/h)
Parachuting • 6-minute cruising the sky with an open parachute
Recording • optional choice of photos & videos of your jump and selfie video
Both-way transfer • in an air-conditioned van from & to our office in Prague's centre
Pick-up & drop-off • from & to your hotel, available for groups of 4 or more
Much recommended for all those adventure loving people who love to see the world from sky and fly like a bird.

Great service, amazing experience, tandem skydiving was a blast.

Well for me it was a dream coming true. I decided to go for Skydiving (Tandem Jump). It was a great experience. Totally mean it!!!

Awesome skydiving experience. Friendly staff and trainers. Highly recommended!

The skydiving was insane and my instructor George was simply the best

😘

Great service. Felt very safe thru the whole experience.

Michal couldn't have been any more friendly and helpful. Overall a brilliant afternoon!! Recommend to anyone

Excellent experience, would highly recommend ⭐️ ⭐️ ⭐️ ⭐️ ⭐️

Skydiving was an amazing experience with your company. A superbly very well organized. Fully safe and secure.
3 Tandem jumps packages
Professional skydiving photographer can make for you a high definition record of your jump in HD quality.
When & where
Mar 28–Oct 15: pick-up available Sat–Sun from 8 AM to 4 PM
Most Airport, 75-minute ride from the centre of Prague
5 hours total (from pick-up to drop-off)
Was an amazing experience, certainly was the best skydiving I've done.

Amazing experience!!! Very recommended :)

Awesome experience. I highly recommend it

👍

Absolutely fantastic service and great fun!! Worth every penny!!

Awesome experience... had loads of fun...will do it again sometime soon...

Top marks. Second time I've used them and both times GREAT communication via email, txt and in person. GREAT experience each time.

Great organisation, great people, much fun, very professional! :)

Friendly and professional instructors. Loved it. Totally recommended.

Great experience, thank you Martina and Evzen and the instructors. Great customer service, pick up and drop off, amazing staff.
Description
Enjoy the thrill of a lifetime with our amazing Prague skydiving experience from 14,000 ft above the ground!
Prague is famous for its safe tandem skydiving. Very popular for travelers through Europe is to stop in Prague to skydive. The combination of maximum safety and the cheapest price from the whole Europe makes our skydiving the best choice for your holiday in Prague. You're in the best hands with Prague's No 1 Skydive Company and the largest parachute and skydiving center in the Czech Republic. Our team of professional tandem instructors is looking forward to taking you up to the blue skies!
Pick-up in Prague
The meeting point is in our office in Dlouha 6, Prague 1, city centre. (Groups of 4+ have free pick-up from any address in Prague.)
Ride to the airport

1 hour and 15 minutes

Sit back and relax in an air-conditioned minibus on the way to our skydiving dropzone near Prague.
Meet your instructor

10 minutes

He will give you a safety briefing and will explain everything that will happen next, and answer any questions you may have.
Get geared up

10 minutes

Take on your jumpsuit, harness, hat and goggles.
Meet your cameraman
If you chose a package with photos & video, your cameraman will record from this moment your whole skydiving adventure till the landing.
Board the plane

20 minutes

Get on board of a perfectly good plane together with your instructor and cameraman and enjoy the stunning view.
Jump off that plane
Once the door opens in the height of 14,000 ft you'll be stepping off into an epic freefall experience!
Freefall

1 minute

The moment you jump out, you will see the world in a whole new way with the wind blasting your face at the speed of 200 km/h.
Cruising the sky

6 minutes

At this point, you'll either be stunned to silence or screaming for joy! It's an awesome feeling that you will never forget!
Landing
Your instructor will arrange for you a very soft landing at the end.
Celebration
Congratulate, you've done it! You you'll get the diploma and a skydiving T-shirt as a memory.
Ride back

1 hour and 15 minutes

We will take you back to our office in Dlouha 6, Prague 1. (Groups of 4+ have free drop-off on any address in Prague).
Drop-off in Prague
Enjoy the rest of your day in Prague!
Notes
Make sure to wear comfortable clothes and tight shoes. The weight limit for the jump is 40–110kg (88–243lb).
101 customer reviews


Value for money. Check it out if you have time on your hand in Prague


Great service, amazing experience, tandem skydiving was a blast


Very good communication before I arrived. Flexible. Good recommendations.


I have tried sky diving today. The view from top was amazing. The guys there were friendly and were full of energy. Every penny was worth it.


More about Prague Tandem Skydiving
Tandem Skydiving in Prague is a very popular adventure activity. What is better way there to take in the amazing views of the beautiful countryside in the Czech Republic than from thousands of feet above it all?